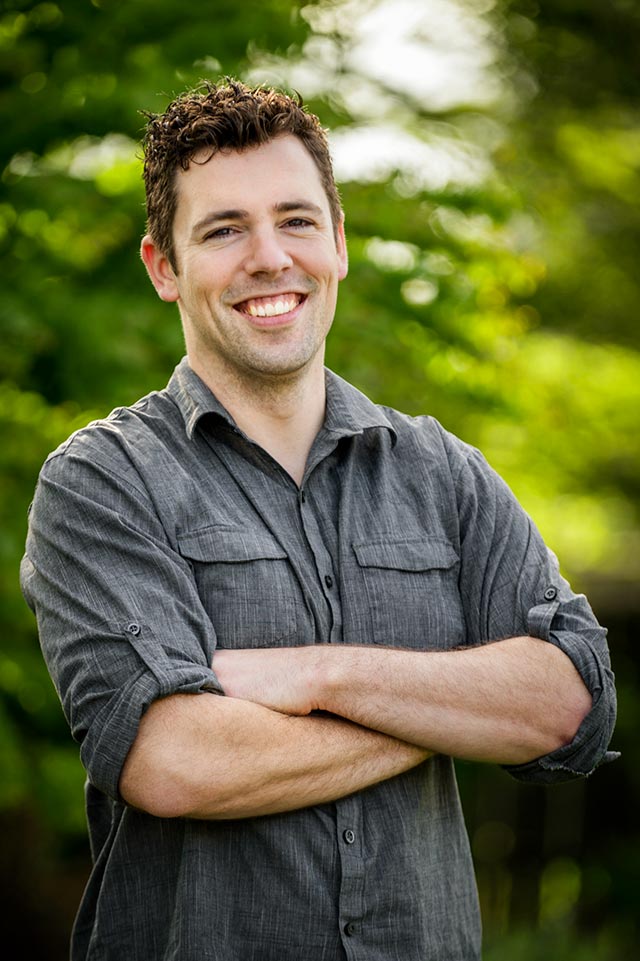 Kevin G. Hardman, LMT
Kevin graduated in 2002 from the Spectrum Center School of Massage in Lake Stevens, where his education was medically focused with advanced training in neuromuscular therapy. Since graduation, his focus has been on injury recovery treatment and enhancing athletic performance, and his continuing education efforts have been focused on furthering those skills.
Massage Works was established in 2002 upon Kevin's graduation from Spectrum. For five years, he practiced at the Family Heath Associates medical offices, where he treated mainly auto, work and sports injuries as well as chronic headaches. From 2008-2015 he shared space with Mt Shuksan Family Medicine and Advanced Sports Chiropractic as a multi-practice clinic. When he added other therapists to his practice and their clientele began to quickly expand, Massage Works moved to its own clinic space in the current office on King St, adding the Blaine location at the same time.
While Kevin's expertise remains in aggressive injury treatment, he also offers a full range of soft tissue treatment as preventative health maintenance. His assessment skills and treatment oriented mindset set him apart from other therapists; while many therapists treat injuries within the context of a full body massage, he treats only the involved muscles. This makes better use of clients' time and insurance or cash resources, as well as reducing their overall treatment and recovery time. His techniques are uncommon in most massage environments and get results both more quickly and more reliably. Kevin's devotion to integrity and improving his clients' outlook on health, combined with his medical skill, puts him at the top of his field.
Kevin lives in Ferndale with his wife Karlyn and their kids Garrett & Amelia. When he's not in the office, you'll likely find him playing "crash" with Garrett in the backyard, joining in a pickup game of basketball or boarding Mt Baker, heading off on a road trip with Karlyn, or brewing a new batch of beer at home with his buddies.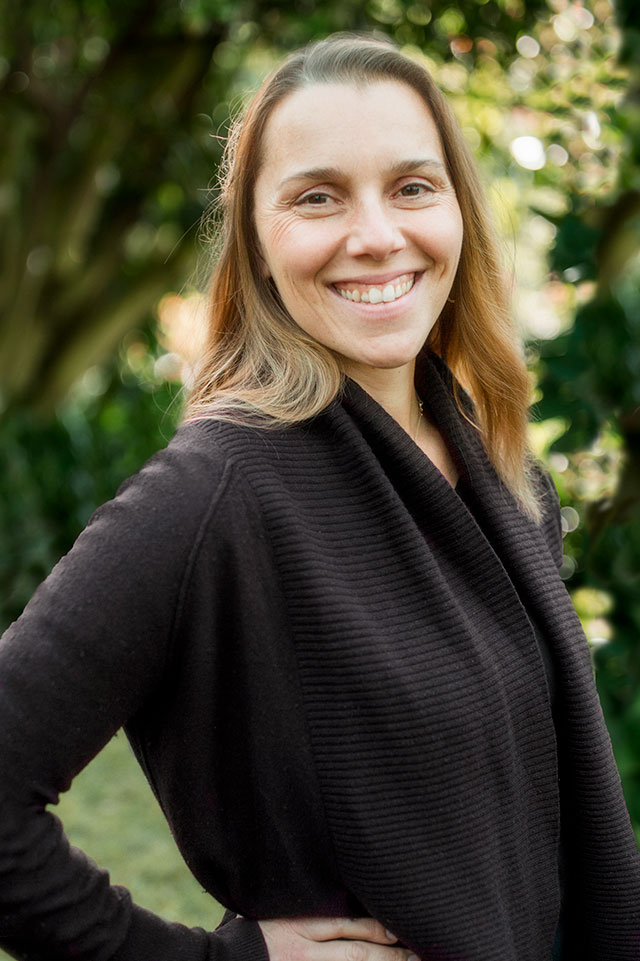 Maureen d'Armand, LMT
Maureen (or "Mo"), came to massage from a background of outdoor endurance sports. Working for many years as a paddling, rafting and trekking guide in Alaska and Antarctica, she became keenly aware of repetitive use injuries and the need for long-term muscle maintenance as well as rehabilitation; when she found herself in severe pain after a 200-mile paddling expedition she thought her paddling days were over. Yet, after a few weeks of focused bodywork she was up and ready for her next adventure – and completely sold on the benefits of ongoing muscular therapy.
Mo began her massage training at the Heartwood Institute of Massage in 2005, continuing on to the Vancouver School of Bodywork and Massage in 2007. She launched her own wellness program aboard One Ocean Expeditions, offering massage and yoga for their fleet of ships exploring the Arctic and Antarctic. 
She returned to Alaska in 2010, working at Southeast Medical Clinic in Juneau. There she had a small private practice called Momentum Massage Therapy, where she primarily worked with long-distance runners and skiers. Her interest increased in injury treatment and prevention as well as techniques to maintain muscle health, and she went on to complete trainings in trigger point therapy, myofascial release, lymphatic drainage and various orthopedic deep tissue techniques. Mo firmly believes that caring for your muscles, connective tissue, and joints is an integral part of your overall wellness. Her sessions center around goals of altering muscle restriction, alleviating pain, supporting soft tissue healing and promoting deep relaxation.
Mo and her husband Paulee recently moved to Bellingham with their son Beni, and together enjoy a life spent as much outdoors as possible. You will often find her on a trail run, out in a kayak or on a paddle board, or up at Mt Baker for a day of skiing. She has not given up on traveling, either; her favorite spot in the world is over in Austria where she gets to hang with her Oma.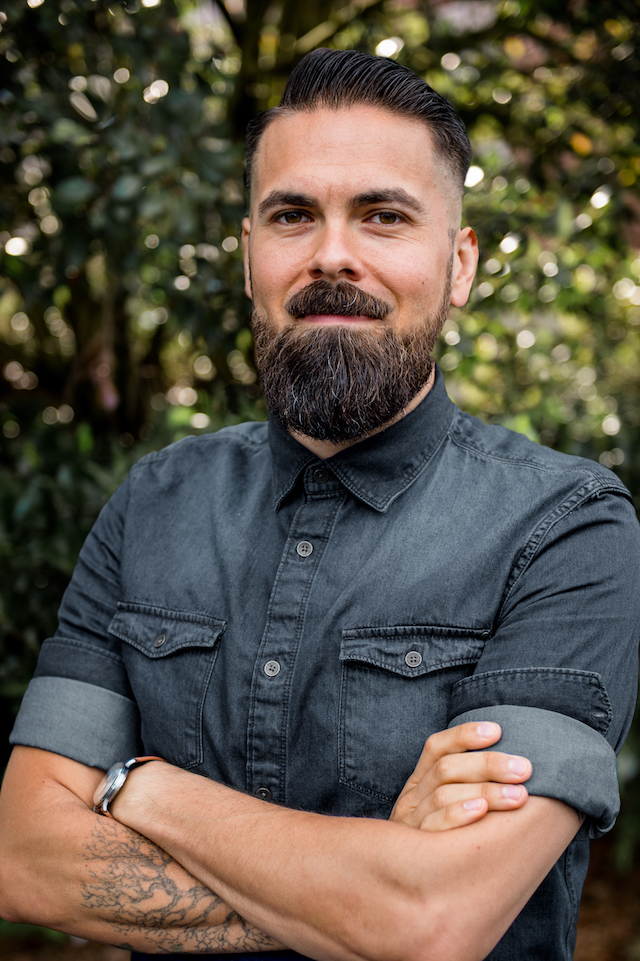 Michael Larios, LMT
As a graduate of the Cortiva Institute of Seattle with prior training at The Brian Utting School of Massage, Michael has been practicing therapeutic and medical massage since 2010. Having worked primarily in clinical settings, the focus of his technique and training has largely been injury treatment and pain management; although, he is a strong believer in the systemic benefits of mindfulness and relaxation that are benefits of therapeutic massage. In addition to the hands-on treatment of each massage session, Michael believes that educating people about daily self care techniques for pain prevention is crucial to a well-rounded approach and to facilitate complete healing.
With an emphasis on neuromuscular therapy for the treatment of trigger points (commonly referred to as "knots") using myofascial release and deep tissue techniques, Michael's style is slow, specific, and tailored to each client's goals. His treatment-oriented mindset allows him to assess and pinpoint clients' issues with skilled precision. Once the plan for each massage session is established, the rest of the treatment is typically quiet and deeply calming. Being able to both comfort and aggressively heal the body is a skill that not many therapists possess, and Michael implements both excellently.
Michael moved to Bellingham in the summer of 2018 with his girlfriend Hilari and their two dogs, Edith and Shelby. Coming from Seattle, they've enjoyed getting to know Bellingham as a city with all the benefits of the Pacific Northwest in a smaller, less hectic environment. When the sun is shining they spend their time gardening, playing with the dogs, and hiking the many trails this beautiful town has to offer. In the winter they enter a state of dormancy akin to hibernation, surviving almost entirely on Netflix and soup.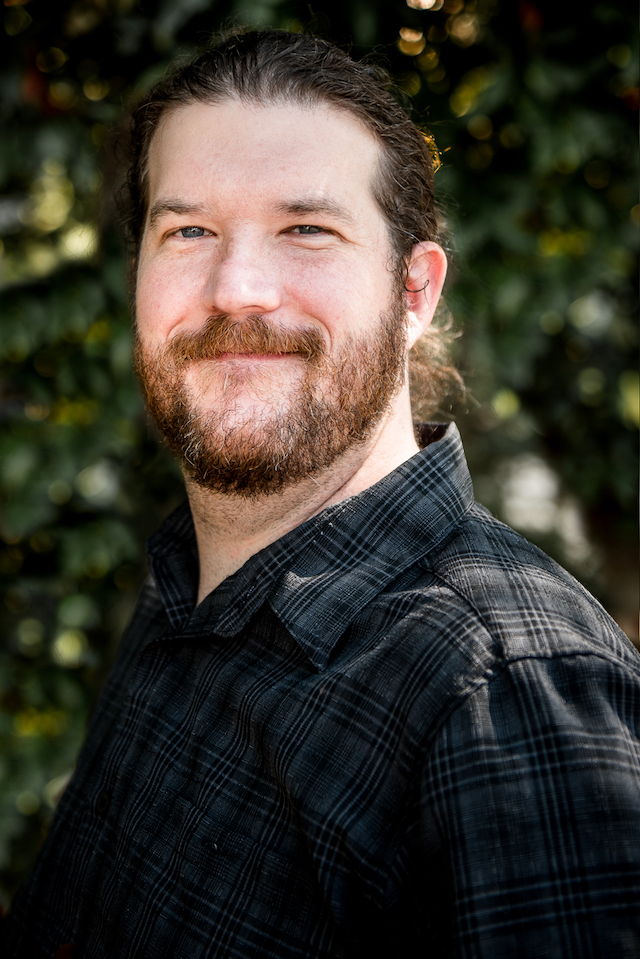 Cody Young, LMT
Cody was drawn to massage while teaching Tai Chi at the YMCA; as a lifelong martial artist, he's always enjoyed studying movement. His desire to help people with movement, balance and range of motion issues prompted him to deepen his understanding of the body in order to increase his students' success. Having already earned a dual degree in Political Science and Philosophy from Indiana University, in 2020 he graduated from Inland Massage Institute and began his medical massage career in chiropractic clinics.
Cody loves guiding people through the healing process, and thrives on the challenges of problem solving involved in muscle treatment. The opportunity to facilitate healing in his patients is one he finds incredibly rewarding as well as energizing, and his ability to listen allows him to design each session around successfully addressing specific needs. Utilizing a combination of intuition and knowledge, he focuses on listening carefully to his patients (both their words and their body during treatment) and is able to skillfully apply direct, deep tissue work that increases mobility while relieving pain. His goal is to make people as comfortable as possible while facilitating a full recovery of regular mobility. In addition to deep tissue massage, Cody is also certified in cupping therapy, and focuses his continued education on modalities like myofascial release, neuromuscular therapy, and somatic massage.
After having wanted to live in the PNW for a very long time, Cody was finally able to move here and is happily setting down his roots here together with his girlfriend Pam, their dog and their cat. He is an avid reader and loves the outdoors; you could easily find him hiking or gardening anytime (as well as, of course, keeping his martial arts skills honed). His current home project is developing a food forest garden that he can share with neighbors and friends.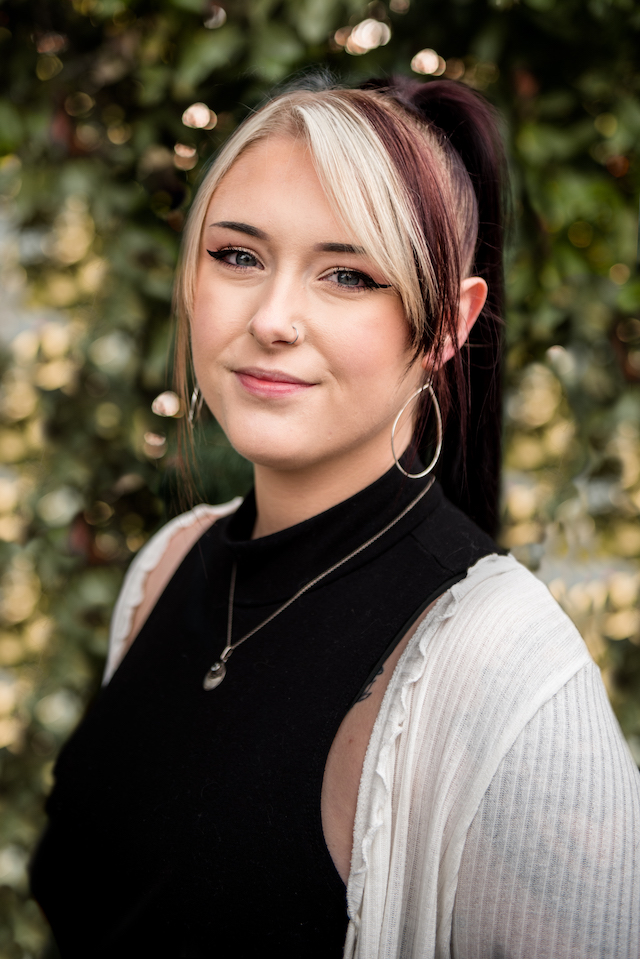 Kendra Linderman, LMT
Kendra's massage journey began with a fascination in the mind/body/soul connection from a young age. She pursued a certification in health coaching, which then led her into the world of power lifting, and it was a combination of all of these experiences that led her to find her passion in massage as part of a person's overall body-and-self-care lifestyle. She received her Swedish Massage certificate at Clover Park Tech College and went on to gain a degree in Kinesiology with a specialty in exercise science.
With her background in health coaching and psychology, Kendra's main focus in her massage treatments is to facilitate healing as a gateway towards learning how to really care for your body. If you feel good in your body, you can do amazing things! The opportunity to empathetically connect with people is one that truly energizes her; her ability to listen allows her to design each session and successfully address specific unique needs. Utilizing a combination of intuition and knowledge, she is able to create a targeted healing treatment plan for each of her clients at the onset of their treatment. Being able to improve their overall health is really what fuels her passion and keeps her continually enthusiastic about her work. She relies on her inherent intuition combined with kinesiology knowledge to find problem areas as well as any stagnant energy that the body may be holding, using deep tissue techniques to locate and release adhesions and trigger points deep within the body. She successfully treats a wide range of injuries and particularly loves working with power athletes in their fitness journey; and she loves walking alongside clients in their wellness lifestyle learning process as well.
Kendra moved to Bellingham in 2019 while pursuing her degree from WWU and lives here now with her boyfriend Brandon and their two gray cats (who might as well be their kids for how spoiled they are). The coastal outdoors pull her into nature on a regular basis, but at home she cultivates a passion for cooking, recipe experimentation and Gordon Ramsey. If rainy days can be a passion, she's a fan! There's almost nothing better than curling up with cozy blankets, hot tea, and a cat on her lap while watching anime or a crime documentary.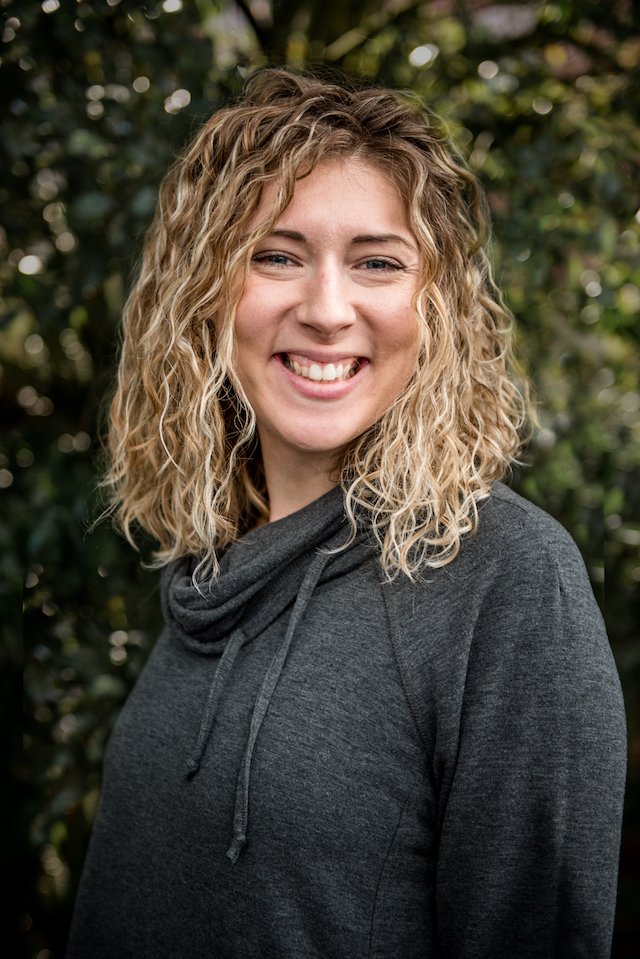 Krystina Traweek, LMT
In 2010, Krystina graduated from the Renton Technical School Massage Therapy program - and then volunteered to go through the program a second time as a tutor for a blind student, so she got twice the training! Her passion has developed along the lines of providing a trusting atmosphere for people to both physically heal and learn the importance of self-care; she believes a big part of developing healthy self-care is the continual experience of being listened to and the art of therapeutic touch. Having worked mostly in chiropractic offices, Krystina has developed highly trained pain relief skills which, combined with her natural intuition and empathy, allow her to create an environment for her clients to do both.
Krystina's primary focus is in injury and pain treatment, particularly with difficult neck pain (frequently utilizing the pin and stretch technique), carpal tunnel syndrome and nerve impingement. Her blend of relaxation techniques alongside deep tissue and trigger point work allow her to both comfort and aggressively heal the body at the same time. She is also trained and licensed in Intra-Oral Therapy, a specialized technique that works with mouth and jaw muscles to deal with pain associated with TMJ, migraines, head or neck injuries, chronic ear problems, dental surgery recovery and many other medical issues.
While she is skilled in focusing on acute concerns, she is also a strong believer in helping her clients to improve their overall health by correcting their learned movement behaviors. Her maintenance treatments center around working on repetitive movement pain and helping her clients to gain knowledge of their body enough to purposefully improve its daily function.
Krystina currently lives in Mount Vernon with her young son and husband, who is a firefighter paramedic. While her main passion lies in the massage world, she also enjoys gardening and exploring the outdoors - but only in the summer, because being wet and cold is misery. So during our long PNW winter months, she is happy to curl up with a good book, movie or podcast instead!